Broccoli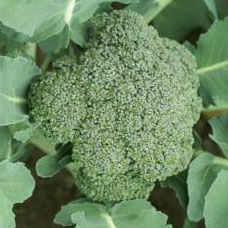 Product Code:
NGVS10198
Availability:
16
Price: Rs.50.00

Broccoli is an edible green plant in the cabbage family, whose large flower head is used as a vegetable.
Broccoli's noteworthy nutrients include vitamin C, Vitamin A (mostly as beta-carotene), olic acid, calcium and fiber. While the calcium content of one serving doesn't equal that of a glass of milk, broccoli is an important calcium source for those who don't consume dairy products. Calcium does more than build strong bones. Research shows that this mineral may play a role in the control of high blood pressure, and it may work to prevent colon cencer.
Beta-carotene and vitamin C are important antioxidants that have been linked to a reduced risk of numerous conditions, including cataracts, heart disease, and several cancer.
Broccoli is a fiber find. Not only is it a rich source, but half of its fiber is insoluble and half is soluble, helping to meet your needs for both types of fiber. But the story doesn't end with broccoli's rich array of nutrients
Spacing : 18" - 24"
Sun Light : > 6 hours
Water : Average
Harvest : 90 - 120 days, harvest before flowering , before boltling
Sowing : Sow seeds 1/4" - 1/2" deep
Germination : 7 - 14 days
Size : 4" - 6" Diameter
Color : Green
Use : Excellent for Cooking
Qty : 150 Seeds/ Pack
Write a review
Your Name:
Your Review:
Note: HTML is not translated!
Rating:
Bad
Good
Enter the code in the box below: